Services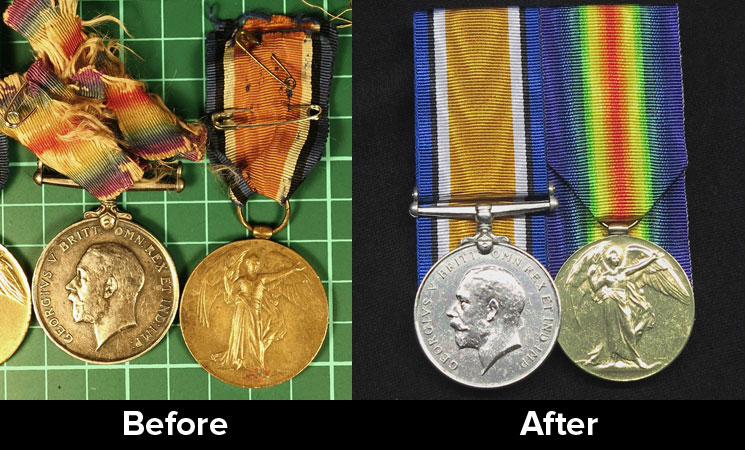 Experience
I work with all medals, including military, Order of St John, prison service, fire service, foreign medals, lapel and cap badges.
Time Taken
Medal restoration generally takes around four weeks, possibly longer during periods of high demand eg ANZAC Day.
Costs
All work is offered at a modest cost. Price and time estimates are provided to each client prior to any work starting.
Cleaning
Where necessary, older medals are carefully cleaned and lacquered to prevent premature tarnishing. Modern medals are also cleaned and polished but, given their high grade finish, are not lacquered.
Displays and Framing
Display and framing options are to the client's requirements which can vary from open framing to behind glass, removable or permanently mounted.
Meeting and Medal Transfers
I prefer to meet clients face to face to discuss their requirements and hand over medals, but a phone and courier service can be used when necessary.
Miniature Sets
Miniature sets are a fantastic way of sharing important family history, and for all family members to honour their heritage.
Mounting
Mounting can be either 'court' or 'swing' mount styles and can be discussed at our first meeting. The backing, glues and fasteners used are all of high quality to help ensure the medal set remains secure for future generations.
New Ribbons
New ribbons are available and are usually required to enhance the cleaned medal. Original ribbons are returned to the owner.
Replacement Medals
Miniature or full size replacements medals are available and can either be replicas or originals.
Restoration
Broken or heavily damaged medals are restored as close as possible to their original condition.
Ribbon Bars
Ribbon bars for uniforms can be made to order.
Edit